Sign up to cut the time and cost of your R12.2 upgrade in half
What's included?
We automatically identify and itemize all impacted and potentially-impacted custom objects by:
Object Name & Short Name
Total code changes required
Object Category & Type

Database
Setup
RICEFW/CEMLI

Status (Active, Inactive, Valid, Invalid)
Concat
Owner
Creation Date
Complexity
Number of lines of code
Changed objects
Obsolete objects
Application
Schema References used
A cost, time, and effort estimate for Testing and Remediation.
Identifies objects in non-compliance with R12.2 standards. Some of these non-compliance standards include:
Using non-Apps schema references
Object name should not exceed 29 characters
Objects should not be created in Apps schema
Apps schema should always have synonyms for the custom objects
Upgrade roadmap
Upgrade approaches
Resource plan with skillset requirements
Multiple timelines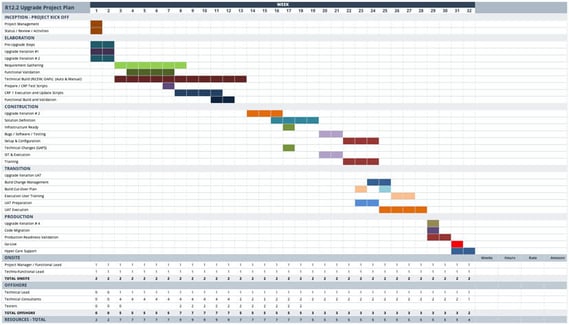 We provide not-to-exceed pricing options for completing the upgrade from start to finish, or specific phases like remediation and testing.
What does the assessment cost?
The assessment is fixed-bid and typically ranges from $15k to $23k. Contact

for pricing.
Sample Output