Editioning is a novel feature introduced in Oracle E-Business Suite R12.2 that allows patches to be applied while the system is still running. To enable this feature many new development standards were introduced in R12.2, which can make the upgrade process more challenging.
Learn about the database object development standards and concept of editioning in R12.2.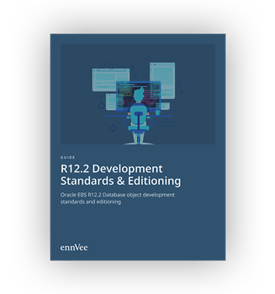 Topics covered
How to edition objects in Oracle EBS R12.2
R12.2 object list and preferred schema
Database object development standards for Tables, Views/Materialized Views, Synonyms, Sequences, Indexes, Triggers, and Functions, Procedures, and Packages
Learn more about ennVee's Oracle EBS R12.2 Upgrade Services or schedule a 15 minute free consultation with us.